Jeffrey R. Stowell, PhD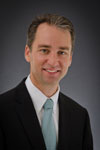 Hi, I love to teach psychology. There's no better subject to apply to ordinary life than the scientific study of the mind and behavior. I also love to experiment with technology. When I combine these two interests, you can often find me trying something new in the classroom to see how it affects teaching and learning.
You can always check ratemyprofessor.com to see what my students are saying about my classes, but more importantly, I'm my own critic, which motivates me to improve my teaching. After class, you'll often find me reflecting on how well it went that day and what I can do to teach it better next time.
I like to ride my bicycle to work whenever the weather permits. Usually that means if there's not snow on the sidewalks and it's above zero degrees. I also enjoy doing home improvement projects, landscaping our yard, and taking distant family vacations with my wife and 6 children.
Contact Me
Eastern Illinois University
600 Lincoln Avenue
Charleston, IL 61920
Phone: (217) 581-2279
Fax: (217) 581-6764
E-mail: jrstowell@eiu.edu