China's Dinosaurs - Dec '97 - Jan '98

Dr. J. Keith Rigby of Notre Dame University took eight of to Beijing and Yuxi
(You-she) City to continue his decade-long relationship with the Chinese.
He is one of a few westerners to have access to Chinese dinosaurs.
---
  When Richard Nixon was invited to China in

  1974, and 'opened the Orient' to the western 

   world, he saw this structure and said:    

"This is a Great Wall."

The name stuck.
---




  Not all Chinese structures are old.  In Yuxi City, 

our hotel was built by the tobacco barons of Yunnan

Province. Tobacco is a major economic crop in the

region. Across the street they are erecting a new

dinosaur museum - an educational facility.


Hmm --- things are the same the world over.

The educational facility called DUKE University

was founded by the tobacco kings, the Duke Family.
---
  When bones are found they are 'jacketed' with 

  Plaster-of-Paris-soaked burlap cloth.  

  Back in the lab it takes saws and hammers and chisels 

  to not-so-gently awaken the bones. 
---
 Each fragment is then pulled out and cleaned on all sides with a dental pick.
 Slooooow going.
 And then it must be remembered where it came from.  This is a 3-D jigsaw puzzle.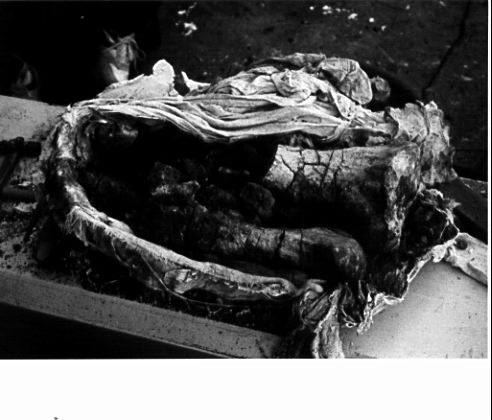 ---
   Getting A Head In The World: 

This is a tooth mark where a predator sampled

the hors doeuvres. See below . . .
---
A close up of the tooth-print.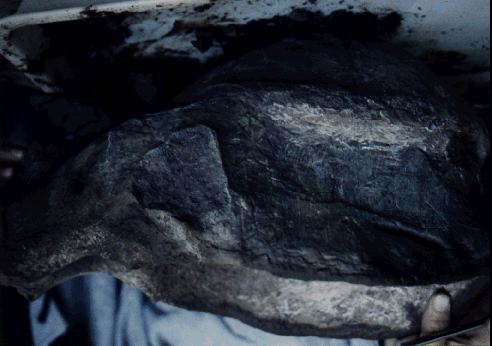 ---
Speaking of teeth . . .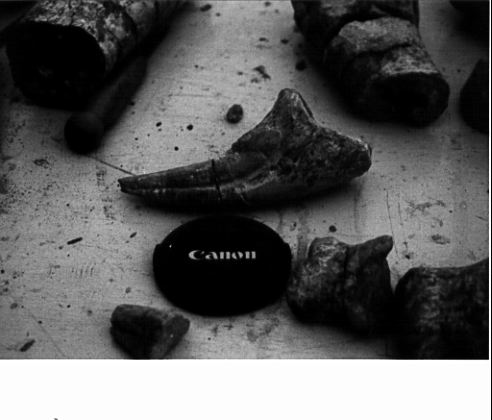 ---


A vertebrae that was an enormous "challenge" to reconstruct. Good old Elmers . . . (glue)
---
The leg bone's connected to the . . . .
---
  Jim was holding hands with a dinosaur.

   Pam (his wife) noticed. 
---
This was a real prize to reassemble.
---
  A highlight of the trip was an English / math  

lesson to 18 children -- who were MUCH more

attentive and involved in the lesson than . . .

say . . . some EIU students i have known.

We were the first 'round eyes' some of these

children had ever seen.
---
  What a classroom ! 

The "truck" is a gerry-rigged Roto-Tiller

with a pickup bed. It is a very common

mode of transportation in China.

It is a very large source of pollution, too.

---
  This Asian water buffalo meandered the streets of  

the village. Errata: the STREET of the village.
---



  When we entered the town the children were 

trying to ride this pig.

Hey, this is downtown China --
no MTV --
no Internet.

What's a kid supposed to do for fun ?

Maybe some American kids would profit from

turning off MTV / Internet -- and figure out how

to ride a pig.
---
  A charming face of China.  

  What stories she could  tell - personal - 

  political - historical.  

  How does she feel about these strangers 

  coming to look at the 'bones in the hills?' 

  An afternoon tea with her would be so revealing. 
---
 In many places throughout the world the day begins 

  with a hunt for firewood.   

Find it and you eat hot food today.

And if you don't . . .
---
  Dino Trekkers:  (from left) 

  ====================== 

ï our super bus driver
ï mr. bai - geologist & musician
ï cfmbl
ï brian - geologist, friend and interpreter
ï eagle eye - reputed to see dino teeth at 50 paces

---
  We camped out for two nites -  

@ 24 N. Latitude - which is "Miami - West"

-- but @ 6,500 ft altitude, when the sun

set, the temperature plunged.

(notice this print is color-coordinated to my tent -
is this a great page or what?)
---
  But back in Beijing (a.k.a. Peking) we were 

  ducking snowflakes 

  (the origin of the term: Peking Duck) 

and to get warm i cozied up to Lufengasaurus.
---
  Federal Express: 

When you're shipping dinosaurs to the

DinoFest in Philadelphia (April-May 1998),

pack them in styrofoam blocks ~15 cm thick

- and then cut out a place for the bones to

lie.

Remember to LABEL which part

goes where.
---
to be continued . . . .
---
---