What is a Student Affiliate?
A student affiliate is an EIU student who has an interest in chemistry, enjoys promoting chemistry to others and showing chemists as concerned world citizen, wants to develop themselves professionally, and likes hanging out with like-minded students.  Our memberships is not restricted to chemistry majors, and any major may join.
For those wishing to take it up a level / get more serious, they can become National members (become a student member of the American Chemical who pays extremely reduced dues of ~ $30).  Membership includes many benefits including a subscription to InChemistry (the ACS-SA national magazine), a six month subscription to C&E News, and access to information about careers and opportunities.  To join the national ACS as an undergraduate Student Affiliate, go to the following links for additional information and the online application (mail-in paper application available also).
Membership in the EIU chapter is separate from membership in the national organization. Many members opt to become SA members of the national ACS, but the EIU chapter does not require national ACS-SA membership.
Next Meeting: October 5th at 5pm in Room 4180
What does EIU's ACS-SA do?
Field trips
<![if !vml]> Our chapter seeks to educate our members, both professionally and just in general knowledge. With this goal, we usually go on 2-3 field trips a year. Places we have gone in the past 5 years include:
• Sigma-Aldrich (St. Louis)
• Argonne Natl Labs (Chicago)
• USDA (Peoria)
• EIU Renewable Energy Center (Charleston)
• Shedd Aquarium
• St. Louis Zoo
• Field Museum
• Budweiser Brewery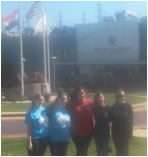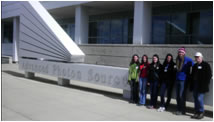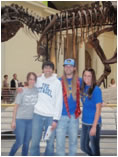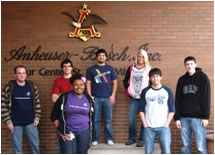 Professional development
Our chapter regularly hosts talks about considering and applying to grad school, summer research opportunities (REUs, SURFs, etc), and resume workshop. In addition, we invite and hosts 1-2 speakers a year from industry (Sigma-Aldrich, Akzo Nobel), academia, and alumni at various different stages of their careers. After each seminar, the ACSSA members have an informal dinner and Q&A with the speaker.
Celebrating NCW
Our chapter promotes NCW around the building and around campus by a number of activities, most visually (and tastily!!) with our NCW Bake Sale where we have a periodic table of cupcakes. There are posters related to the NCW theme around the table, which is in the main hall by our largest lecture hall.
We also write little factoids on the back chalkboards in the chemistry classrooms, as well as have a little fun celebration ourselves.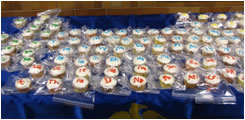 Service
Our chapter seeks to be civically minded and active, and thus participates in many volunteering efforts. These have included:
• Judging at Lakeland CC's Science Fair • WCC's Halloween Chemistry Camp
• Participation in EIU's Service Day • Clean-ups of Fox Ridge State Park & Lake Charleston
• Relay for Life • Toys for Tots • Blood drives
• Putting on Fall and Spring picnics for Chem Dept • Helping Chem Dept with decorating for Awards Banquet
• educational experiences / demos for incoming freshman and high school science classes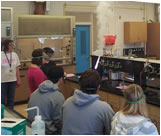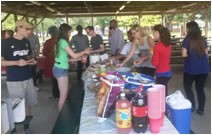 And having fun
We do this with movie nights ("Die Hard", "Interstellar", "Flubber"), bowling, Halloween trips to Curtis Apple Orchard, and games after meetings (puzzle races, Element bingo, Mole Hunts)
<![endif]>