Fun Facts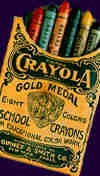 tHE FIRST CRAYOLA COMPANY WAS IN eASTON, pENNSLYVANIA.
tHE 100 BILLINONTH CRAYON was MADE IN 1996.
thE FAVORITE CRAYON OF MOST PEOPLE IN THE UNITED STATES IS BLUE.
Crayola makes Crayons, colored pencils, markers, highlighters,
pencils, and many other art products.
cRAYONS COME IN 120 COLORS.
bINNEY'S WIFE CAME UP WITH THE NAME CRAYOLA.
cRAYOLA CRAYONS ARE SOLD IN MORE THAN 80 COUNTRIES AND PACKAGED
IN MORE THAN 12 LANGUAGES.
tHE CRAYOLA BRAND IS RECOGNIZED BY 99 PERCENT OF AMERICANS .
tHE 24 COUNT CRAYOLA BOX IS THE BEST SELLER.
tHE AVERAGe CHILD WEARS DOWN 720 CRAYONS BY THEIR 10TH BIRTHDAY.
CRAYOLA CRAYONS COMES IN 3 SIZES AND 3 SYLES.
Binney and Smith were Cousins.
The first box of crayons was made in 1903 and sold for a nickel!
Binney and Smith produces nearly 3 billion crayons each year,
an average of 12 million crayons daily.
According to a Yale university study, the scent of Crayola
crayons is among the 20 most recognizable scents to American
adults. Coffee and Peanut butter are numbers 1 and 2. Crayons
are number 18.
In 1990, after 37 years of service, emerson Moser retired after
molding a record 1.4 billion crayons.